The holiday season is a perfect time to spend with family and friends! Not being able to do so may dishearten us a lot more now than at any other time of the year. Whether you are a business owner or a shopper, the discount season will surely raise some challenges, as 84% of consumers moved their shopping online this year.
If we have learned something from recent years is that nobody can prevent the increasing demand during such occasions. But you can prepare for it!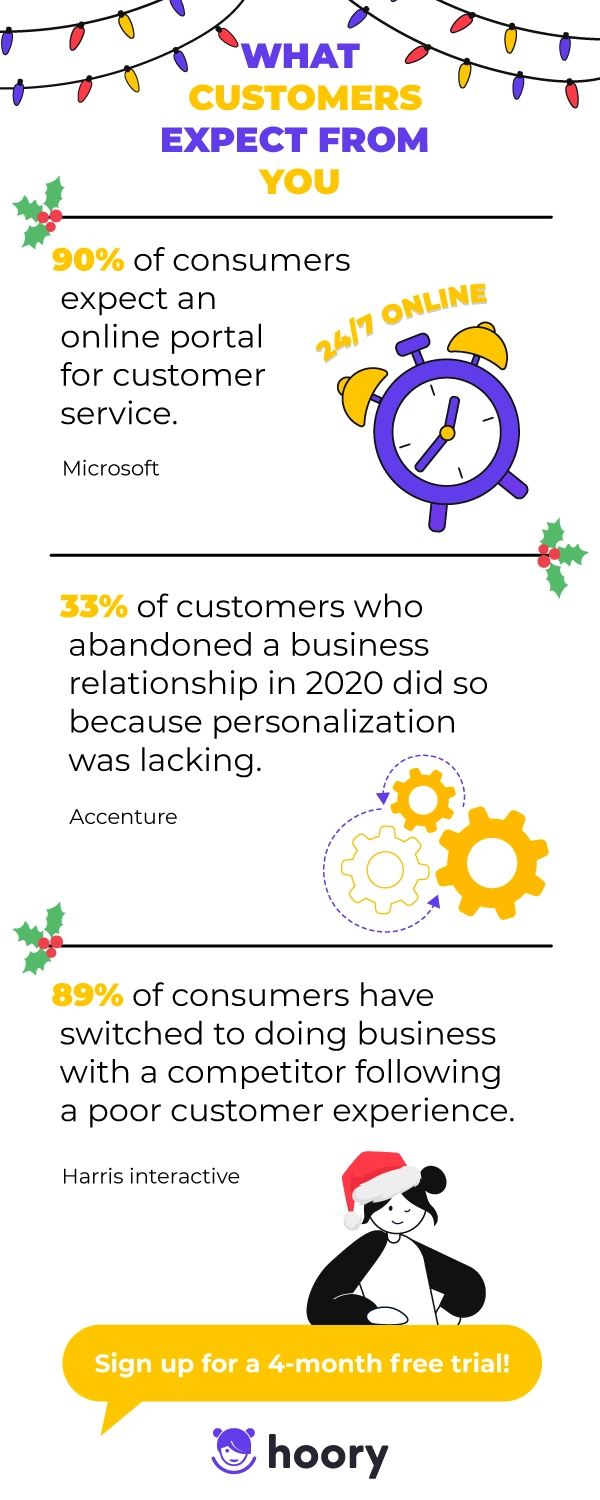 Welcoming AI-Powered Support
The gift-giving season is known to bring brand new visitors to a website. This is a valuable opportunity to turn them into customers!
Automated customer support is growing steadily as the go-to solution for businesses that can't employ a customer support department, or simply can't keep up with the increasing traffic. Why?
It's

cost-effective

It only takes a couple of steps to implement

It ensures that customers receive instant support

Agents will gain extra time to deal with complex tasks

No resources are wasted. You can rapidly onboard new employees and make use of the knowledge gained in time.




Why Hoory?
An AI-powered assistant such as Hoory can quickly prepare businesses for the Holiday Rush (and not only) with all the essentials needed to build an enhanced customer service experience.
It is also evergreen - meaning that once you have it, it will do the job forever. But the sooner you welcome artificial intelligence into your business, the more you'll gain!
Here's a 💡 TIP: don't think of Christmas as your end date. January is actually a very important second peak in seasonal sales that is worth preparing for.


It's Smart and Intuitive
Hoory is designed to be accessible for any business. In only a few steps, your website can feature an AI-powered assistant that resolves customer queries 24/7. Embedding Hoory into a website is an easy process that doesn't require any coding skills.
Provides Year-Round Support
Especially during the holiday season, customers will need your assistance regardless of the date and timezone. This is where business owners should start thinking globally. With Hoory, you can ensure that customers receive 24/7 support.


It's Packed With Awesome Features
Apart from providing faster and better support, Hoory will contribute to the growth of your engagement strategy with some very special features:
Smart Inbox

: an intuitive management system and a full history of your conversations. Here, you can tag, search, filter, prioritize, change assignees, and many more.

Training

: a feature that allows you to teach Hoory answers to commonly asked questions & more.

Welcome Messaging

: Set up custom greetings for your users and welcome them in style.

Collaborative Training

: invite members to your Workspace, give them permissions as you see fit, and train Hoory as a team.

Knowledge Base

: You can ask Hoory to crawl your website content so it can quickly start answering untrained questions about your business.

Customizable Widget: change the color, gender, name, & background of your Widget to match your brand.


It Drives More Sales
In many instances, an unanswered question can turn into a missed conversion. Having Hoory as a quick source for information will fast forward the purchasing process.
You can also make it easier for customers to navigate your website, by inserting CTAs and links to your messages!


Hoory Understands User Intent
In order to provide an outstanding customer service experience, one should understand their audience. Thanks to AI, Hoory can uncover behavior insights and respond accordingly in human-like conversations.
It Frees Up Agents
While Hoory takes over multiple queries at once, your agents are free to deal with more soliciting tasks. And if your assistant comes across a problem that it can't handle, it can quickly pass it over to a customer service representative.

Hoory requires less training and investment than hiring and onboarding new employees, providing support agents with an intuitive management system to facilitate their workflow and increase productivity.
Improves Brand Perception
"Nearly three out of five consumers report that good customer service is vital for them to feel loyalty toward a brand. (Source)"
Who doesn't love an easy purchase? Or a custom greeting? Hoory allows businesses to express their true nature! Input your preferred tone and personality in the predefined answers you train Hoory to use. You can add humor or other brand tone elements to their lexicon, and many more.


Finally, a Deal to Go Artificial!

🎄



Everyone who signs up with Hoory now will benefit from 4 free months of full access to our special features, and a Dedicated Account Manager. This is a great chance to test how AI can fit into your business and generate super-fast results.
For more information, don't hesitate to contact us at [email protected], or simply ask Hoory! We will be happy to support you during this special time of the year.
Happy shopping, happy selling, and happier holidays!