The term knowledge base dates back to the 1980s when the first online directory of files (Directory "M", named after Marie Meyer) was coming in handy to workers utilizing the same information repetitively during daily tasks. It has remained a trending keyword ever since, but with the rise of SaaS products (Software as a Service) and the increasing need for better customer support, we are now more aware of the benefits of owning and growing a knowledge base.
Knowledge Base Definition
Cambridge Oxford Dictionary answers the question "What is a knowledge base?" with a simple definition: a collection of information about a particular subject. To expand on its universal meaning, here are two more depictions:
"A knowledge base is a self-serve online library of information about a product, service, department, or topic." (Atlassian)
"A knowledge base is any system in which knowledge is stored, maintained, and accessed. Your company's knowledge base will contain information that can help whoever is searching find answers to questions and resources to better understand a topic." (Guru)
In simpler words, a knowledge base is a digital library of information that can store enormous amounts of data. Its purpose is to make it easy for computer systems and humans to access and retrieve data that is frequently used in performing daily tasks.
What Type of Data Is Provided in a Knowledge Base?
A knowledge base can store any type of data that is useful to customers and employees. This can range from onboarding resources to additional guidance for users who require a better understanding of your product or services.

Types of Knowledge Bases
To help owners organize their files and eliminate any accessibility concerns, there are two types of knowledge bases one can adopt:
Internal Knowledge Base
An internal knowledge base encompasses a multitude of private and confidential information. These can include onboarding files, workflows, processes, company research, or any other information that is strictly intended for internal use.
External Knowledge Base
An external knowledge base is an information library that provides users with relevant information for the use of your product or services. It may include policies, useful guides, product information, and more.
The Benefits of Owning a Knowledge Base
Having a knowledge base comes with several advantages for both businesses and customers. Apart from automating repetitive tasks and facilitating the search for information, growing a knowledge base will create opportunities for long-term benefits.

#1 Prevent the Loss of Knowledge
Businesses that rely on preserving and reusing data will face a massive setback if knowledge is lost. As employee turnover is one of the biggest causes of knowledge loss in a company or institution, having a knowledge base will ensure that all data is documented and stored indefinitely.
Apart from its internal use, a knowledge base will come in handy during the transfer of information from one company or institution to another. If your knowledge base contains information that external parties will desire, you can easily facilitate the exchange.
#2 Save Costs and Company Resources
Activities such as onboarding new employees and training existing ones will require companies to dedicate extra time and resources. A knowledge base helps businesses speed up such processes and reduce internal costs by eliminating redundant work and increasing the productivity of employees.
#3 Communicate Consistently
Consistency in communication is increasingly important in providing a great user experience. Knowledge bases aid businesses in reaching a unified standard of communication, starting with aligning new employees with the practices of the business.
Utilizing the same information homogenously allows businesses to maintain a consistent tone of voice across all channels of communication and reduce doubt in providing the right answers to customers.
#4 Be Available 24/7
Round-the-clock availability is increasingly relevant in measuring customer satisfaction, especially since "86% of consumers expect companies to provide an online customer service portal." (Microsoft). To satisfy the need for 24/7 support, many businesses opt for implementing a chatbot, or even better, an AI-powered assistant on their websites.
Knowledge bases facilitate the performance of such software, allowing them to retrieve data instantly and even grow your knowledge base by adding new information acquired during interactions with users.
#5 Better SEO Results
One of the least known advantages of owning a knowledge base is the chance to improve SEO results. The contents of a knowledge base follow the same criteria as the content you'd find on a website.
Owners can optimize the data provided in a knowledge base to help users find information faster but also gain better positions in SERP. Here are some tips:
Research your audience to find topics of interest

Optimize the titles and metadata

of your content

Add internal links to your files

Use simple and clear URL structures
Optimizing a knowledge base for SEO is also a great way to attract prospective clients to a website. If the information provided in the knowledge base satisfies their intent, chances are they will be interested in learning more about your business.
#6 Improve Customer Retention
While any industry can benefit from owning a knowledge base, the customer support sector is probably the luckiest to have this great tool at its disposal. Knowledge bases can quickly assist businesses in improving customer retention.
With FAQs and repetitive queries taking over substantial time in an agent's workflow, more and more businesses are turning to automation systems powered by knowledge bases. While agents gain time to deal with complex queries, customers benefit from improved resolution times and a better customer journey.
How to Manage a Knowledge Base
Knowing how to manage a knowledge base is an essential step in building a comprehensive information library. It all starts with choosing the appropriate knowledge base software.
Choosing a Knowledge Base Software
Knowledge base softwares allow for the management of your entire data library. Picture a platform where information is added, classified, and searched for with ease.
"Knowledge base software allows a user to create a centralized repository that can be used to easily create, organize, find, and share knowledge that would otherwise be spread out in multiple locations." (Helpjuice)
Knowledge base softwares differ in the possibilities they provide, ranging from the look of the interface to the tools available for structuring data. WordPress, Microsoft Office, and HelpSite are only some of the systems you may have heard of. Here is a very useful checklist to help identify the potential criteria your knowledge base software should meet.
How to Organize a Knowledge Base
As developing a knowledge base is a long-term (or even lifetime) project, keeping things organized is key. Structuring your files from the start will benefit the later stages of managing a knowledge base: from dealing with huge amounts of information to improving the user experience.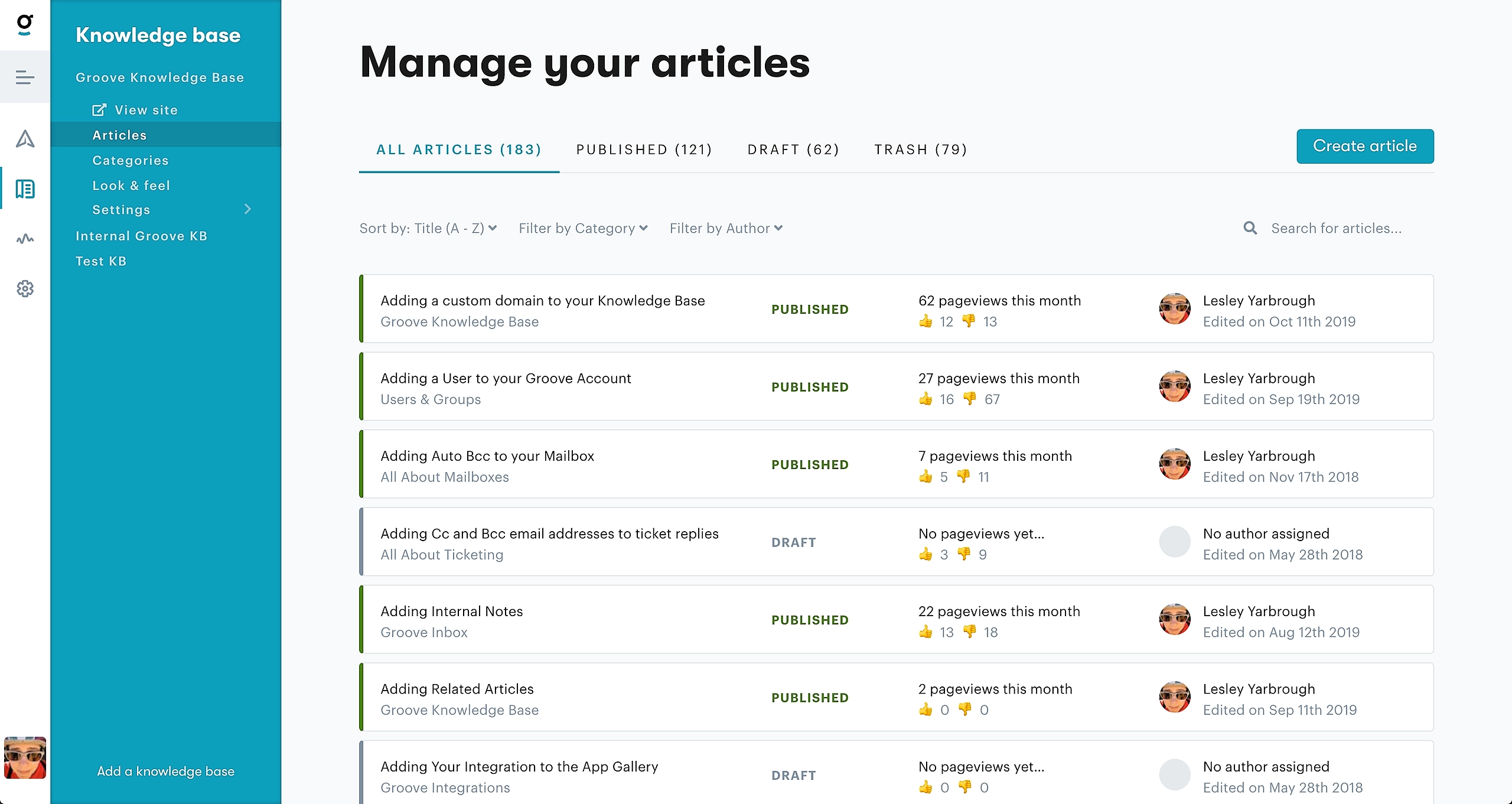 Here are some helpful tips to arrange your files:
Classify data based on categories, topics, departments, etc.

Use the same title structure throughout

Include as much visual aid as possible

Limit the access to certain files as needed

Remember to update your knowledge base regularly

Keep your knowledge base brand-focused
Organizing a knowledge base for better UX is key. Nevertheless, discoverability is just as important. Remember to share your knowledge base everywhere and make it easily accessible to users searching for information.
Bottom Line
Growing a knowledge base is a definite asset for any business, regardless of the industry it targets. Anyone can easily provide an enhanced user experience, save company resources, and stock a lifetime of valuable knowledge!