11.08.2022
Technology has fundamentally changed many fields of business and daily life, and marketing is one of them. With the big surge of digital data, companies now have easy access to critical customer information, which pushes them to reassess their approach and adopt data-driven marketing.
While most businesses nowadays do use data to a certain extent, many still haven't utilized the real potential of a data-driven strategy. In this article, you'll learn what data-driven marketing is, what it has to offer to your business, and how to create your data-driven marketing strategy.
What Is Data-Driven Marketing?
First things first, what does data-driven marketing mean? Data-driven marketing uses data to plan and implement any marketing activity, from developing strategies and making predictions to creating campaigns and assets.
The key distinctive feature of data-driven marketing is the strong reliance on customer information. It includes demographic data, such as age, gender, location, etc., as well as personal interests and behavioral patterns.
Data-driven marketing aims to create relevant and personalized campaigns that appeal to a specific target audience. It allows marketers to test hypotheses, find correlations and patterns in data, and use it to make informed decisions.
The importance of data has grown significantly, and brands that know how to utilize it have a lot to gain, which we'll discuss in the next section.
Top Benefits of Data-Driven Marketing
Although collecting and profiling data seems like an extra step that complicates marketing processes, it'll save you valuable resources in the long run. A data-driven strategy offers numerous benefits, some of which are discussed below.
Better Decision-Making Process
Data-driven marketing has made the decision-making process significantly more productive for marketers. It's much more efficient to make decisions backed by actual data rather than shoot in the dark or rely on instinct. While the theory is still an important part of marketing, your choices should be based on real-life use cases and scenarios.
On the other side, raw data can often point in different directions and lead to controversy. In such cases, you need to put your analytical skills to work and take data with a grain of salt.
More Visibility
Almost half of consumers won't interact with branded content if it's not personalized to their interests. The study also reports that 88% of customers say personally relevant content positively impacts their feelings about a brand.

Data-driven marketing solutions help businesses stand out in a saturated market with personalized marketing messages and creative assets. Nowadays, bright colors and catchy text will not guarantee a potential buyer's interest. There's simply too much of it out there!
A thorough study of your audience, their preferences, and online behavior will give you a clear idea of where to move with your marketing efforts. Based on the data, you can create campaigns that speak directly to your followers, thus increasing your chances of being noticed.
Improved Customer Experience
Besides catching attention, personalized, data-based campaigns also give customers a better experience with a brand. From social media posts to landing pages and email marketing, your assets should be carefully planned and analyzed to fit your audience's demands.
Data is especially important to assess your customer journey and identify any existing gaps. Every stage of a client's journey requires a different approach, so use data-driven content marketing to optimize your messages for each step the user takes.
How To Create Your Data-Driven Marketing Strategy
Consumers expect higher levels of personalization in digital marketing. The right data-driven marketing strategy is key to enhancing user experience and increasing customer retention. But if you don't know how to get started, read on to discover practical data-driven marketing strategies you can leverage for your business.
1. Determine and Collect the Right Data
First, you need to be certain about the kind of information you need to gather. An excess of irrelevant data can lead you astray and complicate things unnecessarily. So to make the most of the information available to you, define your main goals, the KPIs to track your success, and the type of data that will be necessary for the process.
At this stage, analytics tools will be your best friend. You can implement Google Analytics, Similarweb, CrazyEgg, Hotjar, and any other software that aligns with your goals and strategy.
Having strict data quality policies in place will ensure you're working with data that's accurate, complete, current, and relevant to your cause. You can see the core traits of data quality below:

2. Define Audience Segments
One of the primary and most valuable uses of data is audience segmentation. Even a small audience inevitably consists of various subgroups, each characterized by distinct traits. Knowing exactly who your target is should be the basis of all your marketing efforts. And for accurate audience segmentation, marketers turn to data.
Segmentation stretches beyond bare demographics; your existing or potential customers will vary based on journey stages, personal tastes, pain points, buying habits, etc. Personalizing experiences begins by studying the different segments to tailor your campaigns to each buyer persona.
3. Create Optimized Campaigns
Once you have determined whom you're trying to reach, you can use the information to create marketing materials that better meet user needs. Customer data is key to analyzing user behavior, pinpointing what type of content they like to engage with, what concerns they have, etc.
Besides optimizing your advertising messages, you might also want to produce content that ranks on search engines. To do so successfully, you will need sufficient data to target the right keywords, topics, and audiences.
Data-Driven Marketing Examples
Data-based marketing can manifest in several ways, depending on your implementation strategy. Here are a few data-driven marketing examples you can use to plan your next marketing campaign.
Targeted Messaging
A careful analysis of your target demographic will reveal how users are responding to your marketing messages and where you can improve. Messages that aim to attract everyone underperform compared to ones that are meant for a specific client group.
72% of customers only engage with personalized messaging. And personalization entails more than the text that's delivered to the customer. It's also about picking the proper format, platform, and time to serve the message. All those factors are vital to creating and distributing well-targeted messaging.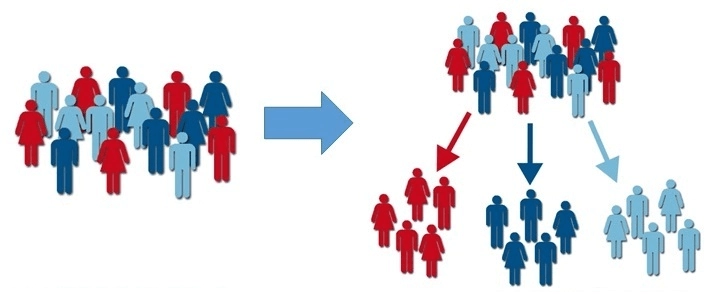 Source: Serpstat
Conversion Rate Optimization
Conversion rate optimization (CRO) is the process of increasing the percentage of conversions. It's mainly done by conducting tests to determine the most optimal solution to a given problem — e.g., picking the best-performing CTA button, page layout, lead flow, etc.
Naturally, you need valid data to run tests. The result of your tests will be directly affected by not only the quantity but also the quality of the data used. For example, if you're experimenting with landing pages, you need to be sure your pages attract enough traffic to yield reliable results. Tools such as Google Optimize, Hotjar, VWO Testing, and others will help you implement your CRO campaigns.
Website Interactions
Engaging visitors through an AI assistant or live chat is another method to fuel your data-driven marketing efforts. It's a great way to gather data from your leads and later use it to provide a personal approach to each user.
You can gain valuable information based on which pages users visit, how long they stay, when they contact you for help, what problems they face, etc. You can also create customized welcome messages to greet visitors with a personalized note and even prompt them to take a certain action. Statistics show that personalized welcome messages increase user engagement by 33%.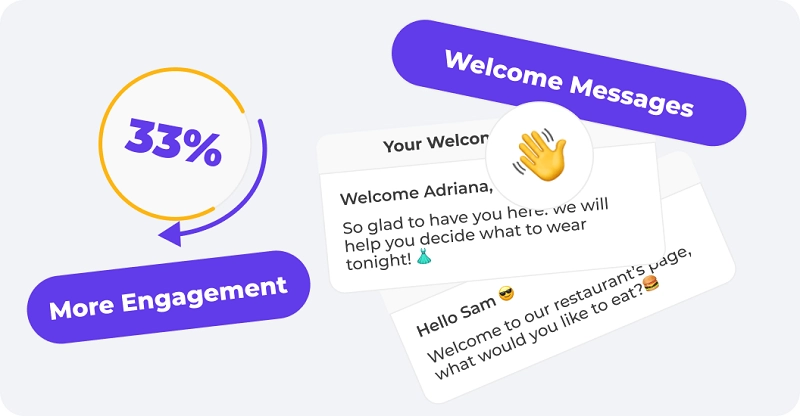 Drive Success With Data
At the core of data-driven marketing is the real understanding of your customer base. A data-driven marketing strategy relies on accurate, actionable data to inform critical decisions. With effective data management, you can optimize your campaigns to achieve maximum results. Don't forget to study data-driven marketing examples to learn how you can best incorporate them into your marketing strategy.