Hoory's Knowledge Base (KB) is a unique application designed to crawl the content of any web page where the Widget is embedded.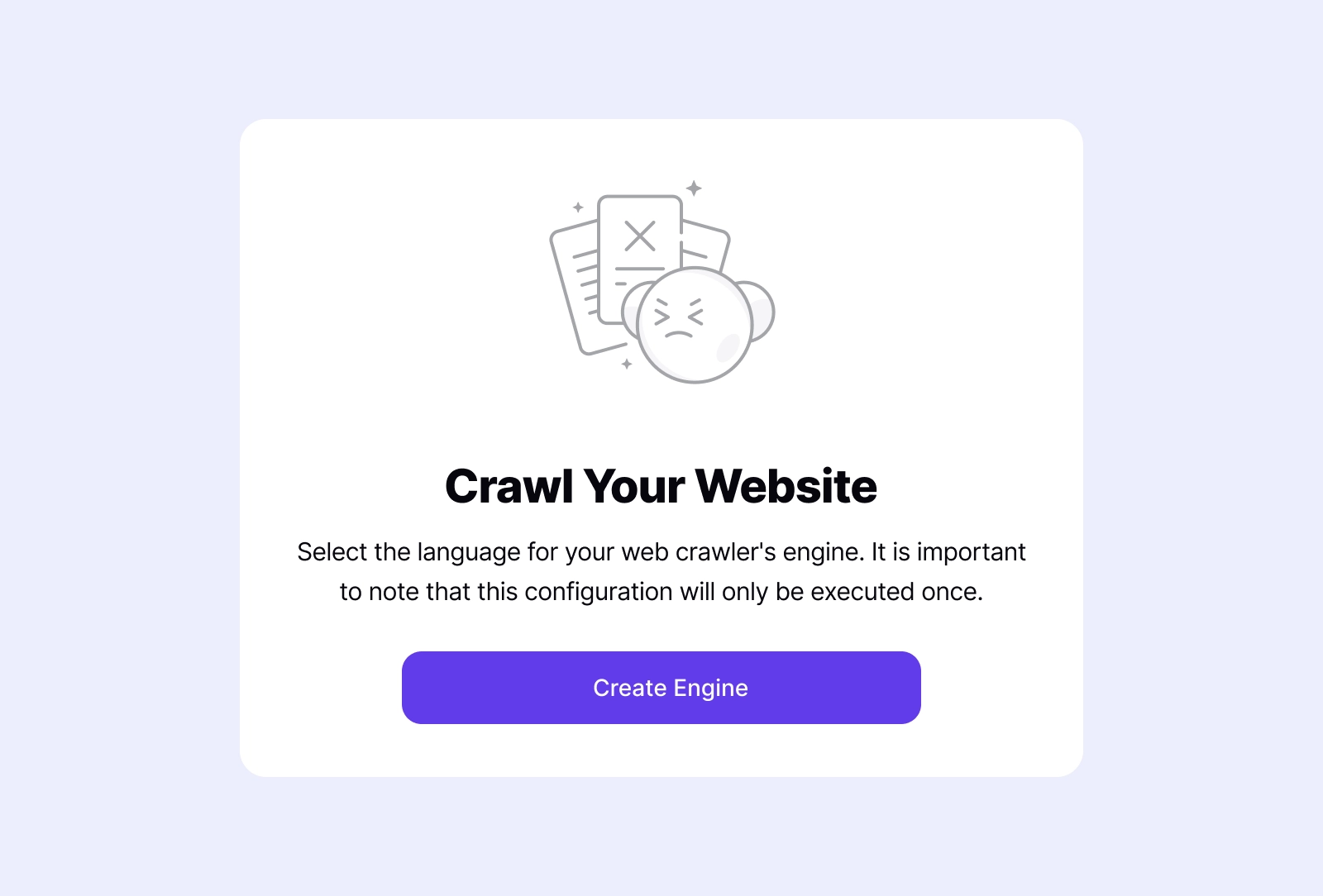 Now, users are able to add domains in the Knowledge base page and then keep the necessary information from those domains. Implementing website content analysis is of high importance as it eventually improves customer experience by providing accurate responses to customer inquiries.
To do this, click "Add Domain" and start crawling.
Note: You can edit your domains and add sitemaps any time you want.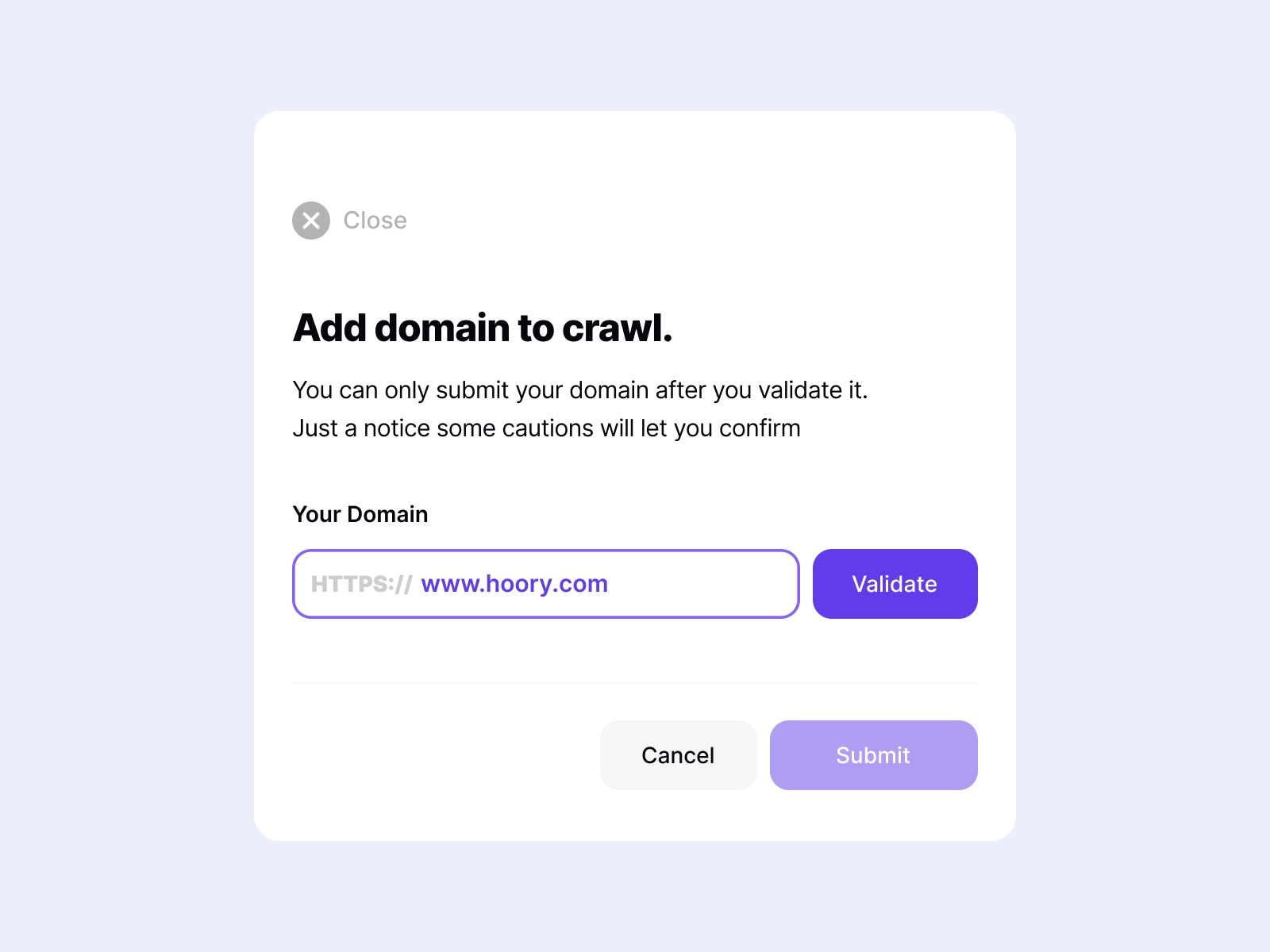 When entering the domain, pay attention to the colored labels below.
Green means your domain validation was successful.
Yellow indicates that your domain needs content verification.
Red means your domain has indexing restrictions.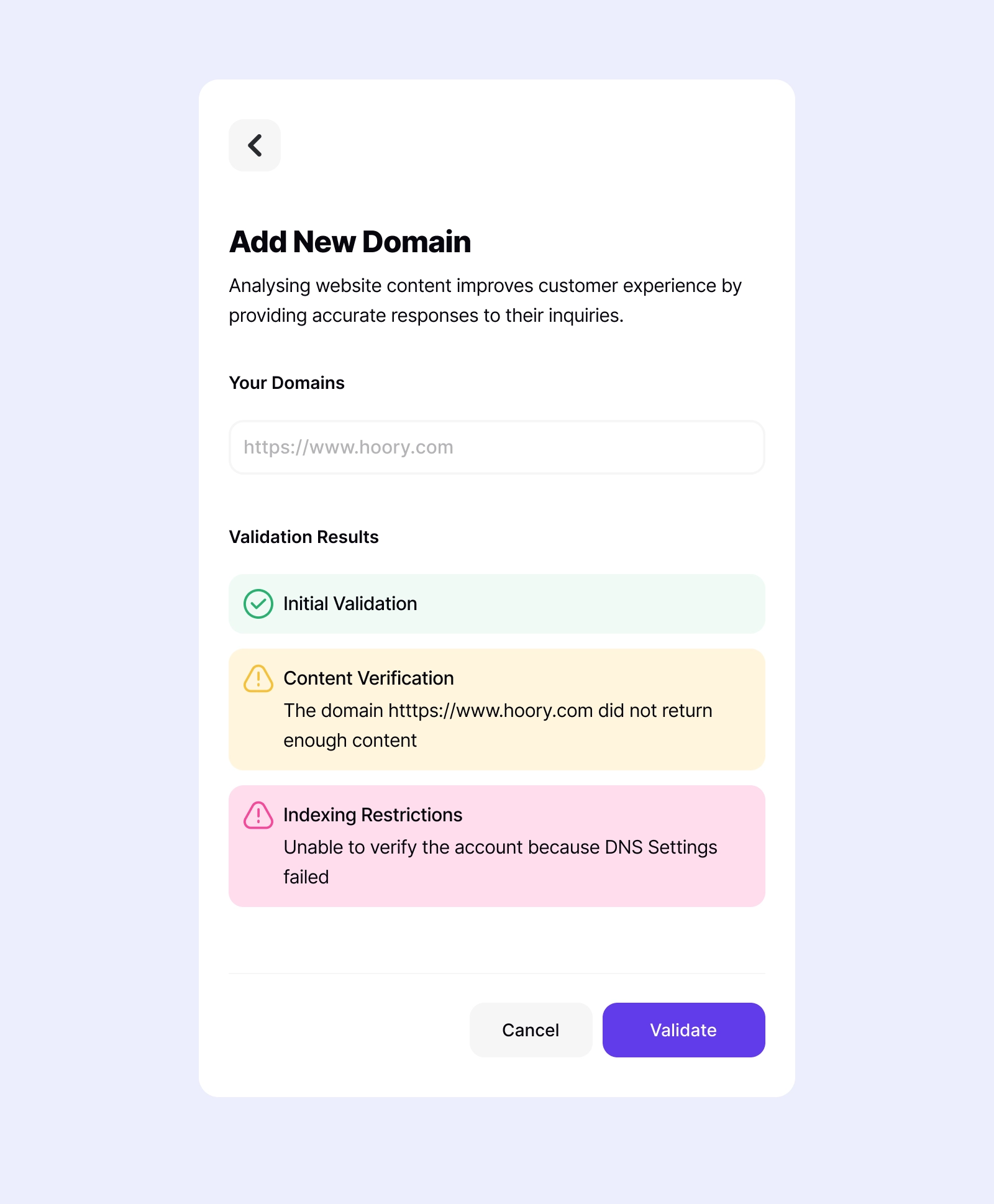 KB in the Workspace
To create a unique knowledge database for your virtual assistant, click Start crawling and let Hoory handle the process on its own.
Meanwhile, you can always continue navigating through the Workspace.
When the crawl results are ready, you will receive a notification.
Note: The crawling duration can vary depending on the volume of your website content.
After crawling a website, Hoory provides a list of the recent search results.
When customers send you a question, relevant content extracted from these pages is delivered to them as an answer.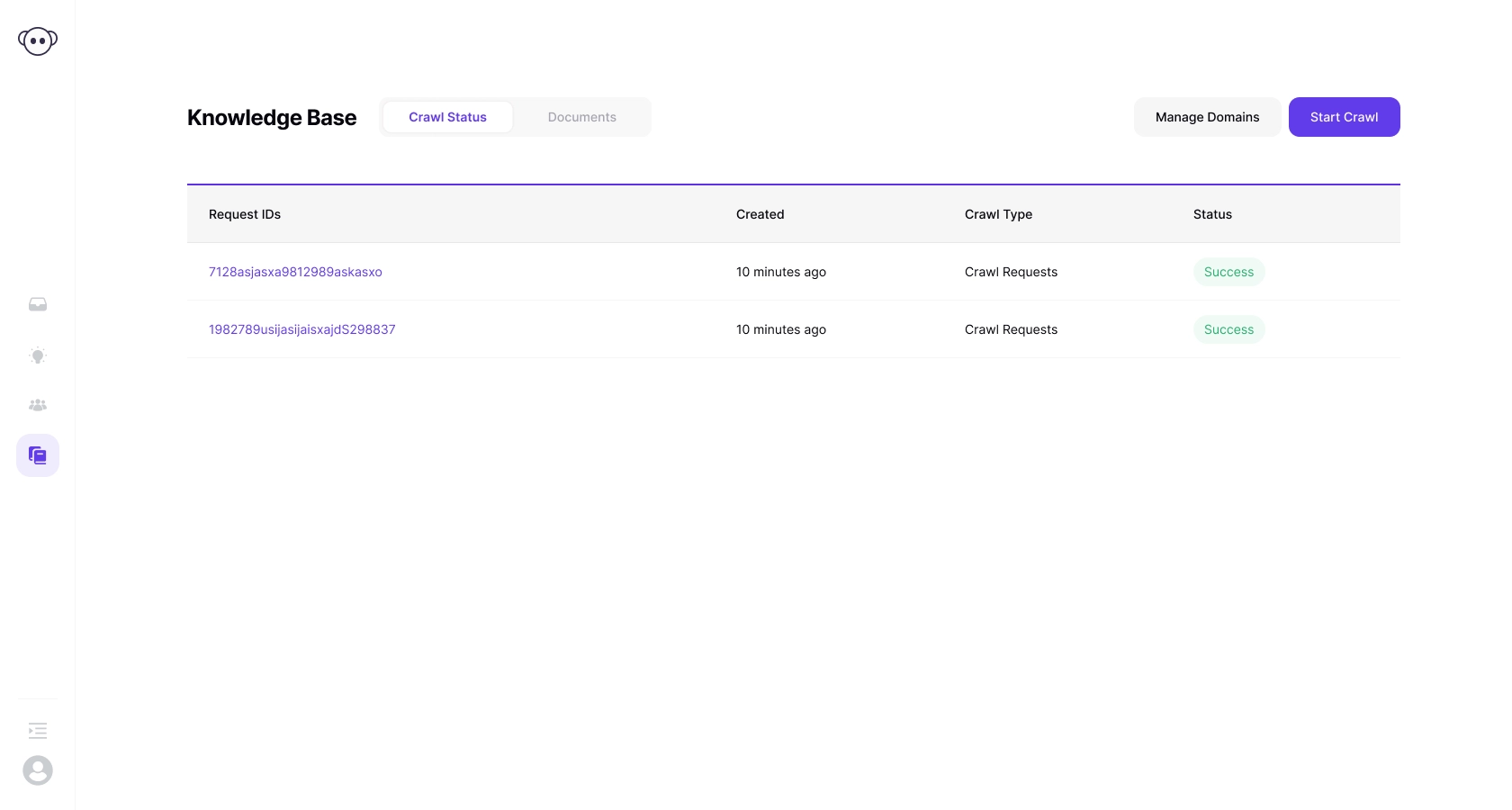 How does GPT 3.5 Work in the Knowledge Base?
When your AI assistant is asked a question, it first scans the training list to find a relevant answer. If you don't have training for that question, Hoory tries to find a response from the knowledge base of your website.
Then your AI assistant uses its semantic search engine to find the document where the necessary information is stored. After that, Hoory uses generative AI to extract the answer, make it more conversational and reply to a user's query. Otherwise, Hoory relies only on generative AI databases for a general answer.
If the question is too specific, Hoory offers to contact customer service and get specialized assistance.
Our own semantic search engine – document.
Documents
In the Documents section, you can find the domain information that we've crawled, received, and indexed. Prior to adding a domain, the user must check whether all the domain features are valid or not.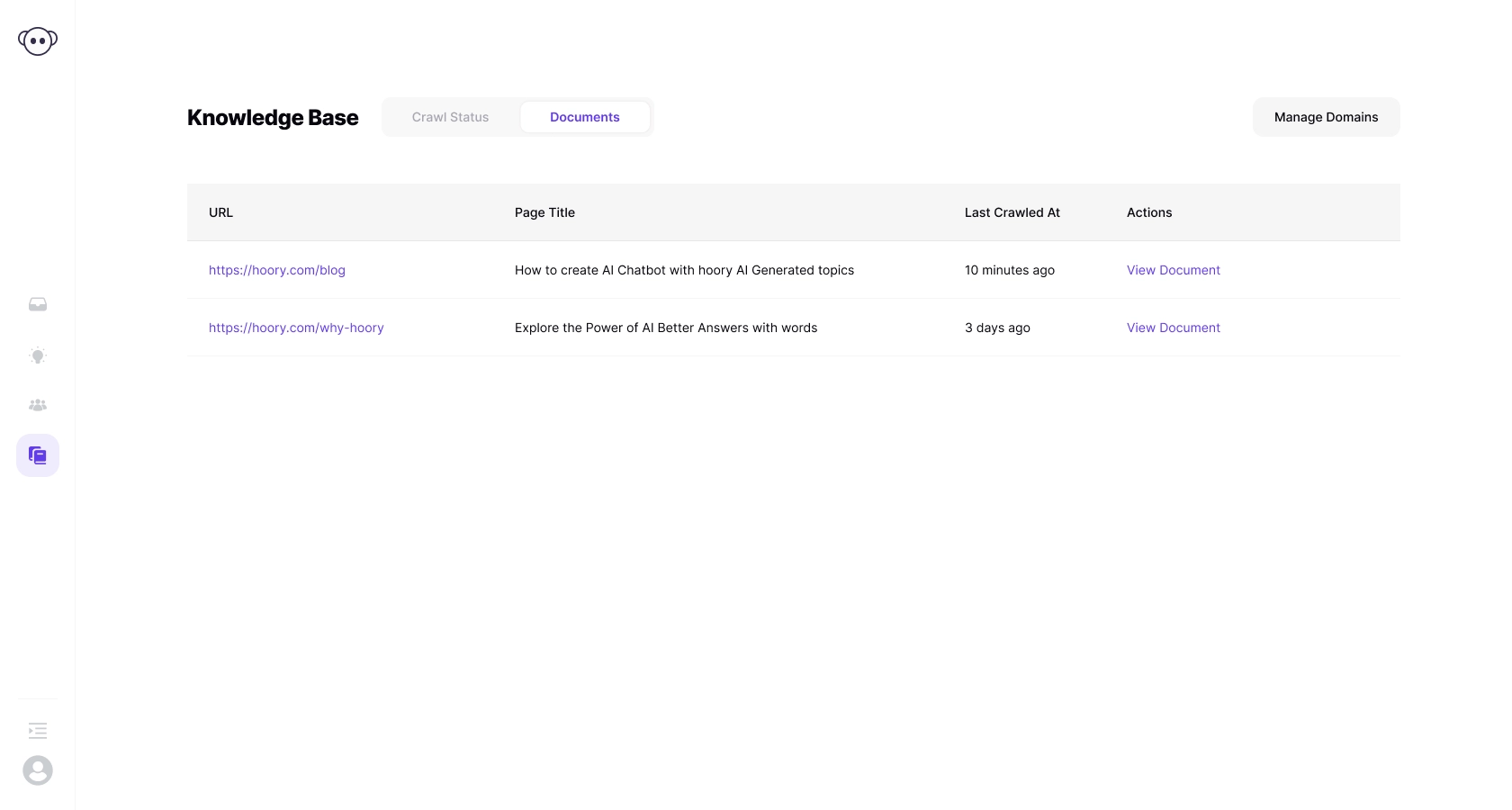 Start a New Crawl
If you make changes to your website, you can always ask Hoory to recrawl the content by clicking Start a new crawl. This way, Hoory will provide you with updated Knowledge Base results by crawling the website from scratch. You can pause this process at any time, after which Hoory will provide the list of web pages crawled up to that point.
Widget
Your assistant will try to retrieve answers from the training first. If it doesn't find a relevant trained response, it will switch to Knowledge Base to find the correct answers.
For additional information, feel free to contact our Support team via [email protected]