Welcome to People! This is where you'll learn about the application that lets you access, review and contact your unique end-user database.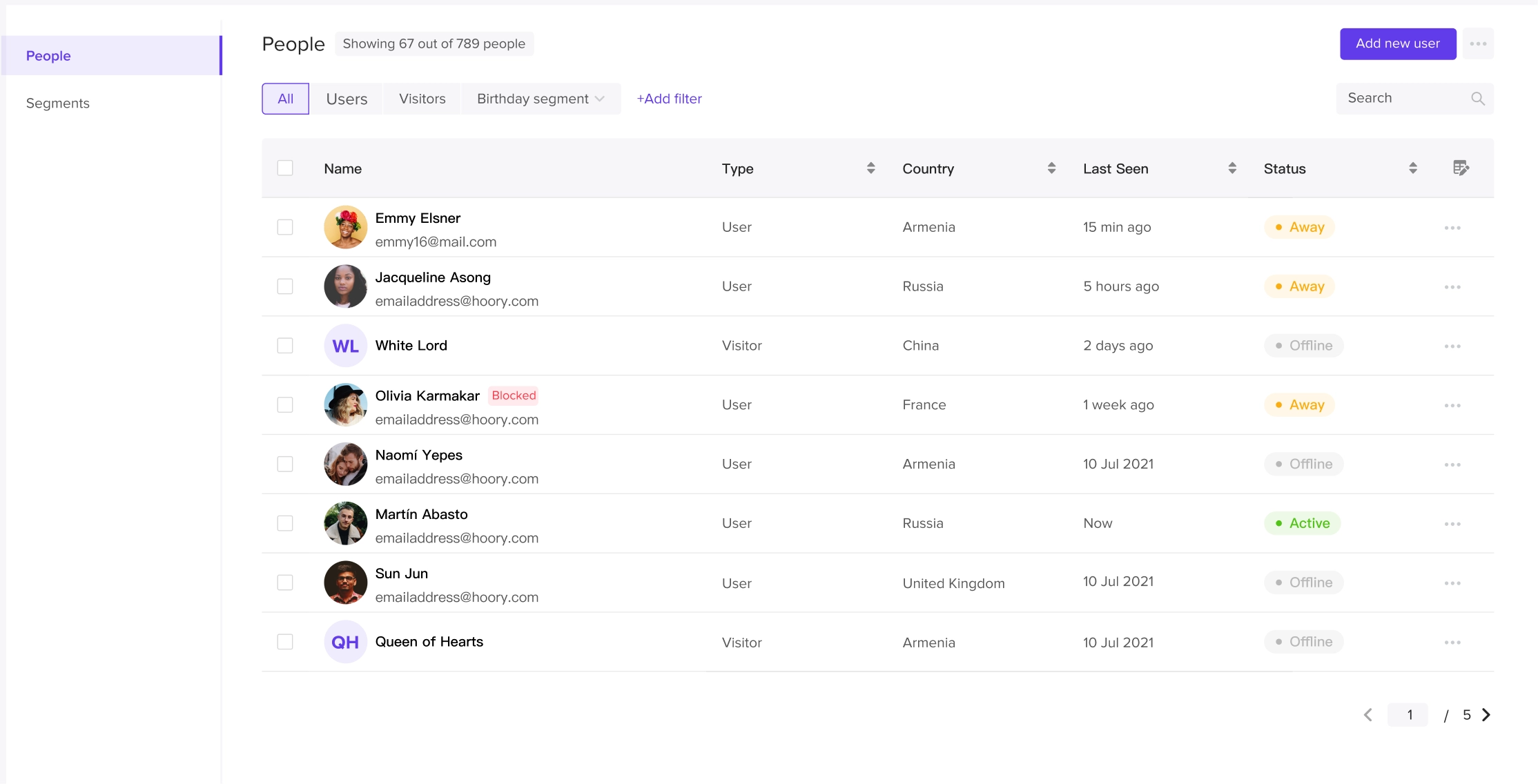 The People application provides a list of end-users that you can organize into various categories. The categories are organized via the following cards:
By clicking on the ellipses button on the right-hand side, you can choose to delete the user, block the user, or edit the user's information.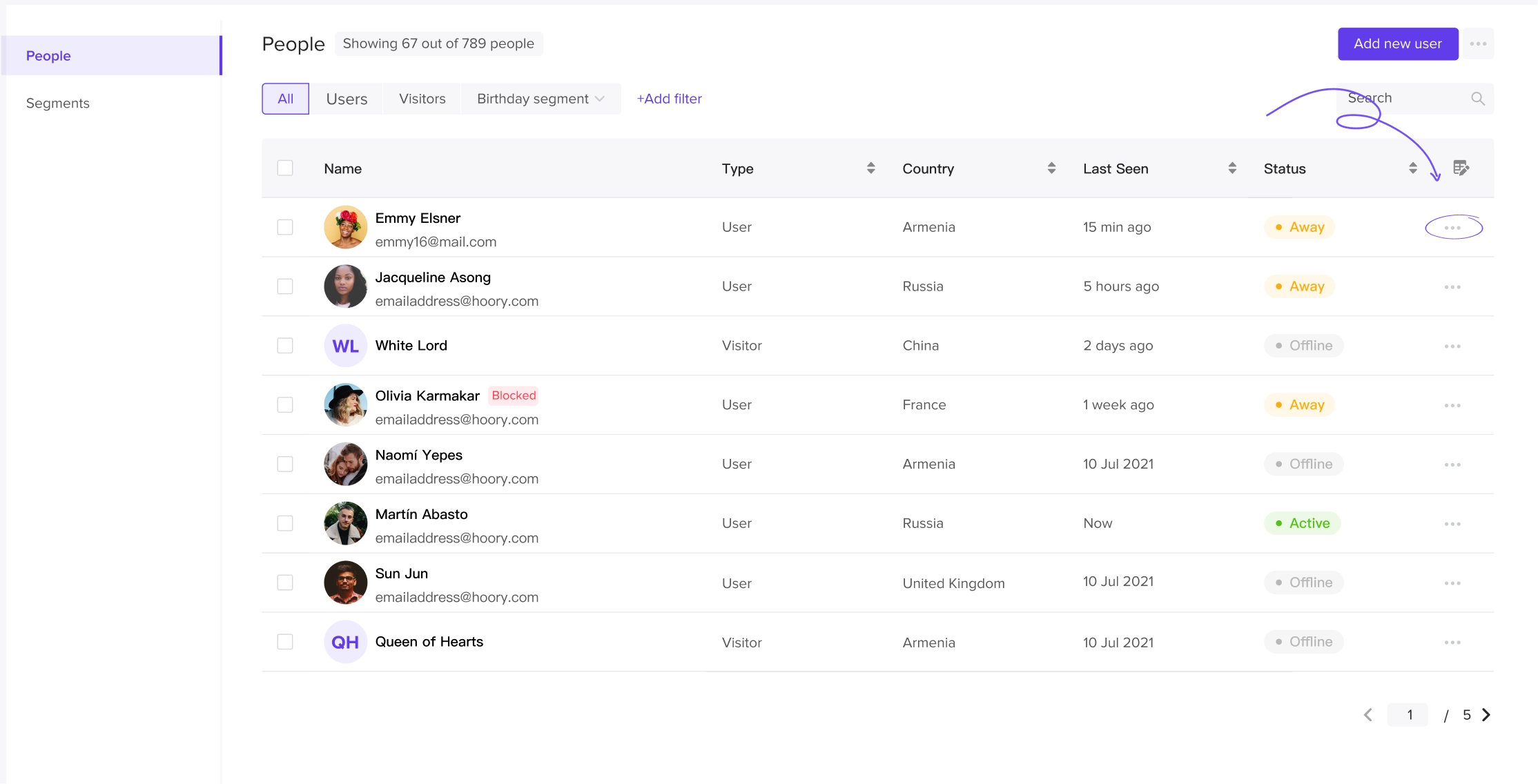 Editing options include User ID, First Name, Last Name, Email, and Phone Number, as well as City and Country location.
Among those options, the User ID is set as non-editable by default. Meanwhile, the user's Name, Phone Number, and their Email address can be altered within a text box. Information on the end-user's City and Country can be changed via a drop-down box of alphabetical options. Lastly, altering the end-user's Country will automatically change the options available for City.
Clicking save will update these user details.
Still, on the main page, you can find a pencil/table icon in the top-right corner. When you click on this button, you can add or remove various columns that show user details. These columns reveal information such as: City, Country, First Seen, Last Seen, Status, and Type.

You can check or uncheck multiple boxes, and rearrange these boxes within the editing window as necessary.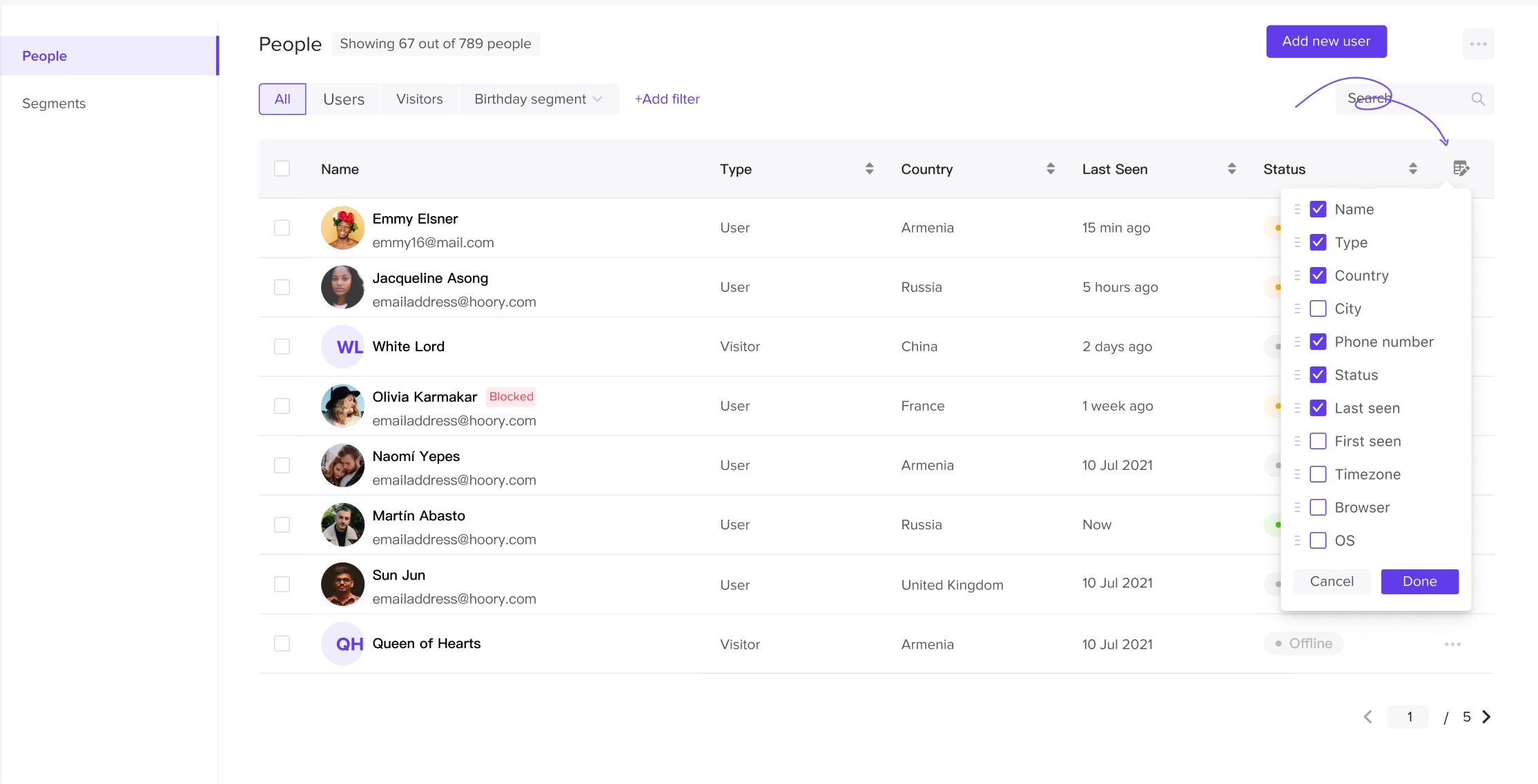 User Profiles
Click through to any end-user's name to access their profile, which contains additional information including Conversations hosted through the inbox feature, as well as User Notes, User Tags, and recent activity.
Adding comments to the User Notes card is a private method of annotating important details relevant to individual end-users. Assigning customized User Tags is People's primary method of organizing end-users into categories not provided by the default list. These user tags can be applied to People's filter system, as seen below.


The Filters




On the main People page, you can filter your list of end-users and visitors by clicking +Add Filter. Choose among options that include:
First name

Last name

Country

City

Email address

Phone number

First seen (first login date)

Last seen (most recent login date)

Status

User tags

Timezone

Browser

OS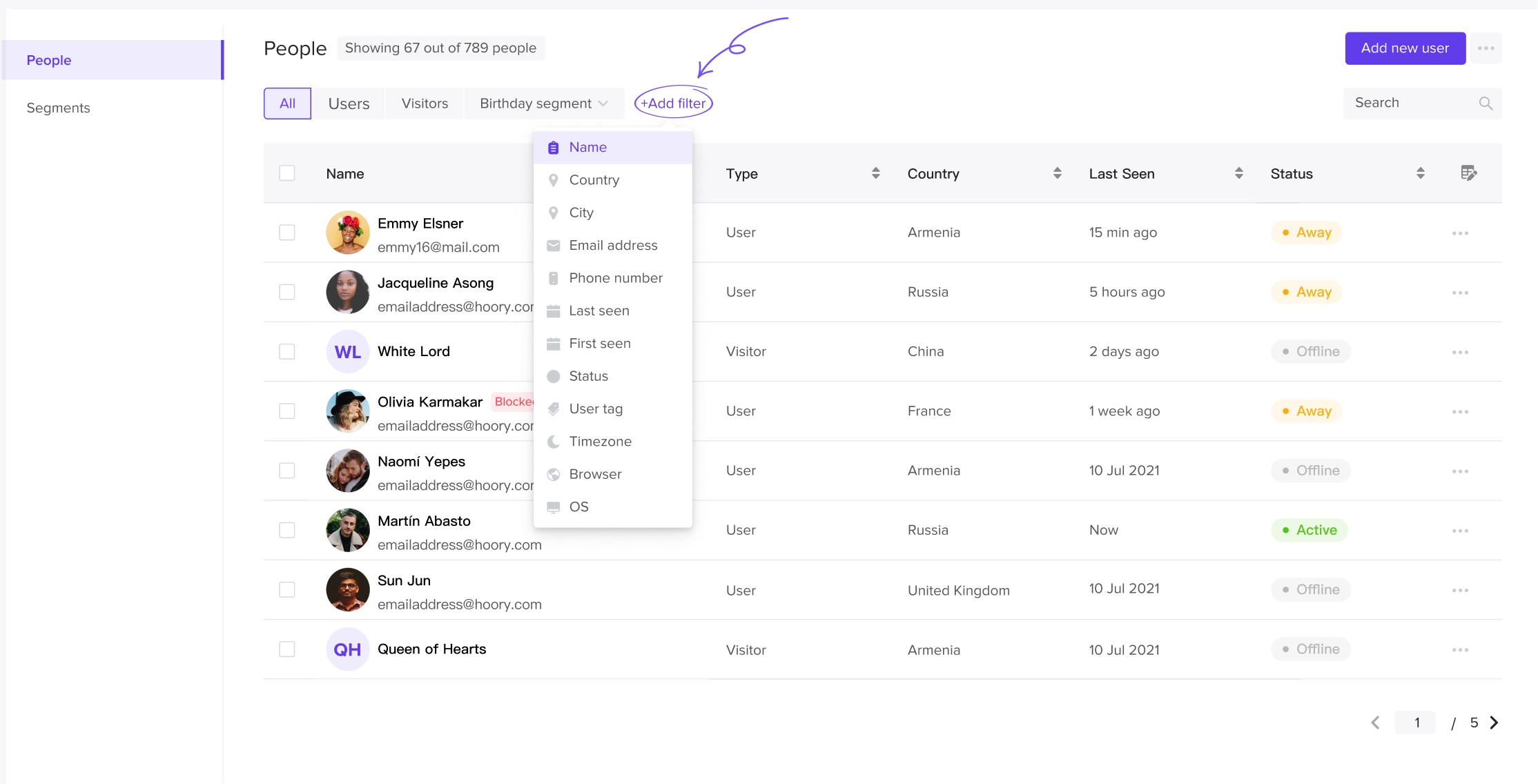 When you select one of these filters, you are then prompted to refine your list of users based on keywords within that data point. Type in the keyword that is relevant to your search and press Done to receive your results. These distinctions include:
Is [keyword]. The user's data point must exactly match the entered keyword.

Starts with [keyword]. The user's data must begin with the entered keyword/letter.

Ends with [keyword]. The user's data must end with the entered keyword/letter.

Contains [keyword]. The keyword/letter must be present anywhere in the user data.

Does not contain [keyword]. All end-users containing the keyword/letter will be excluded from the filtered list.

Is unknown.

Has any value
Finally, multiple filters can be overlaid onto the end-user list, and all filters can be wiped away by clicking Clear all.


The Search Bar
Lastly, you can also perform a basic search via the People's Search bar on the right-hand side. This is a simpler method of quickly locating specific end-users based on their username.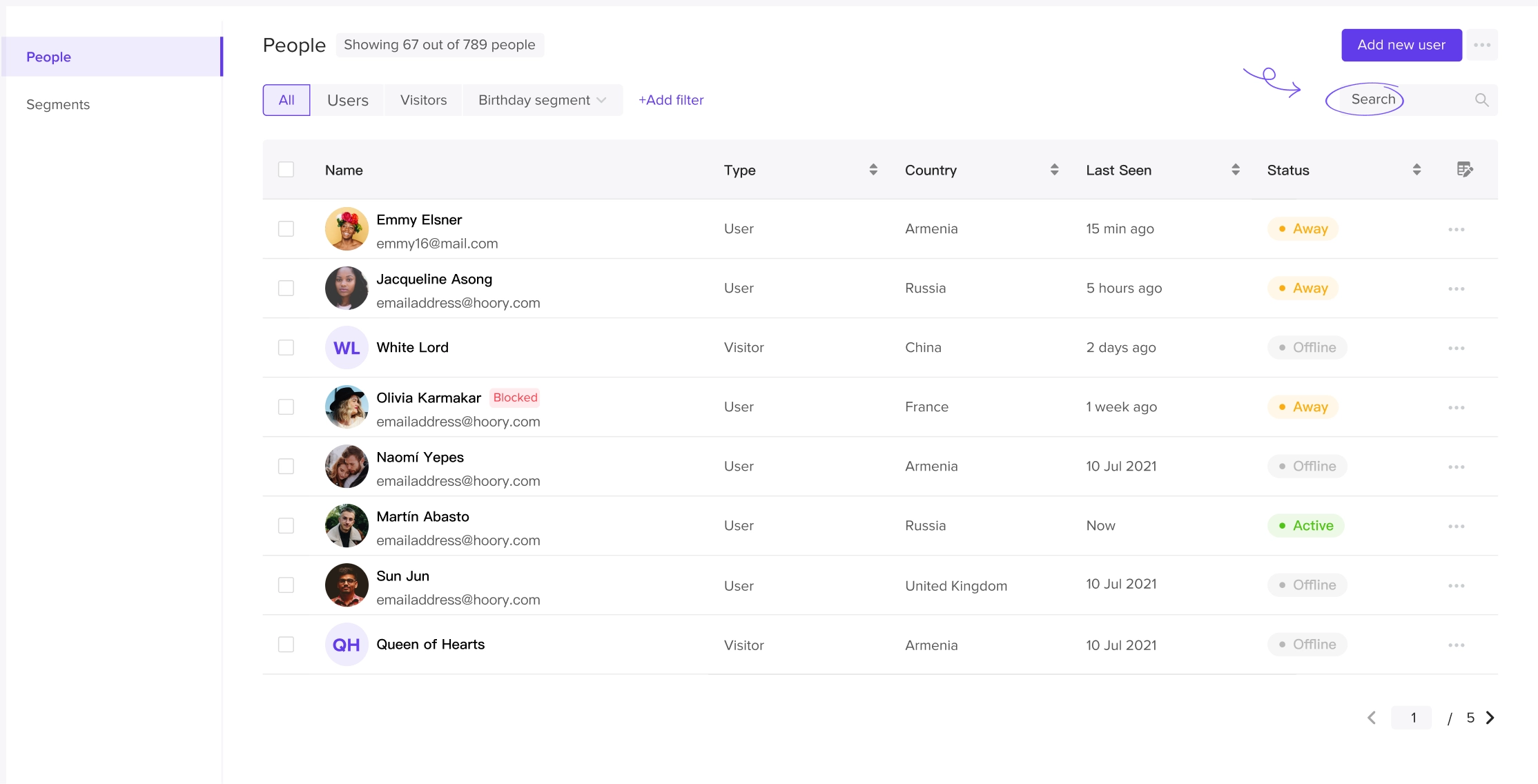 That's It!
And that's the People application! You now have a complete understanding on how to navigate your end-users, as well as how to organize them into categories.
If you require help, please reach out to our Support team at [email protected]