A business's customer retention rate is undoubtedly one of the most relevant metrics in measuring business performance. Although more businesses are inclined to spend their resources on acquiring new customers, it is widely known that motivating the return of existing customers is actually a lot more probable and profitable.
5% increase in customer retention more than doubles revenue. (FinancesOnline)
Consequently, having a great customer retention strategy in place can rapidly boost sales, enrich brand loyalty, and make better use of a business's investment. If you are scouting for improvements or looking to build a successful strategy from scratch, understanding the value of customer retention and how it is measured is an ideal starting point.
Why Is Customer Retention Important?
For one, the customer retention rate directly affects ROI (return on investment). The higher the rate, the more revenue a business will generate. And as there is such a close bond between customer satisfaction and the popularity of a business, who wouldn't want to give their audience an incentive to return?
To make better sense of how integral customer retention really is, here are some statistics to keep in mind for 2022:
Acquiring a new customer is 5 to 25 times more expensive than retaining existing ones. (Harvard Business Review)
65% of a company's business comes from previous customers. (Review42)
That being said, let's jump into some of the most effective customer retention tips that any business can easily implement.
6 Tips on How to Improve Customer Retention
Regardless of the industry or business size, customer satisfaction can really make or break. What follows are 6 affordable and accessible actions to help you pave the way to a successful customer retention strategy.
#1 Keep a Close Eye on Metrics
Understanding where your churn rate is situated is just as vital as setting yourself clear parameters for the future. Luckily, there is an easy formula to calculate your customer retention rate:

Next, monitor the development of your CRR in the succeeding time period. Researching historical data will help you uncover customer behavior insights, identify possible reasons for their bounce, and the sources of your success. It is a great way to track monthly progress and identify your winning actions.
#2 Provide Unmatched Support Services
There is no denying that a good customer support experience is something we all strive for during the customer journey. It is such a highly influential factor that last year, "89% of consumers have switched to doing business with a competitor following a poor customer experience" (Source). To avoid radical dissatisfaction (and ultimately a considerable increase in churn rate), businesses must be at the top of their game 24/7. That means no query is left unanswered, regardless of the date and time.

Whereas some businesses will have the resources to employ a customer support department to face the traits and size of their audience, others won't. But there are some really great solutions to that. One of them is AI-powered assistants. In comparison to the well-known chatbots, AI assistants can understand user intent and provide an AI customer experience that's personalized for each user. You can try featuring an AI-powered customer support assistant on your website by signing up for Hoory's 4-month free trial.
#3 Make Adjustments to Accommodate Customers
Feedback collection done right can really give customers a sense of empowerment. But what is even more crucial than asking for an opinion is making adjustments according to their needs and preferences. Even the smallest improvements will be noticed.

Take some time to research your existing customers and find what brought them to choose you. Knowing the factors that differentiate you from competitors is as much of an asset as finding your business's pain points. You can even set up free product demos and invite clients to learn more about your services and improve their experience with your business.
#4 Never Underestimate Customer Loyalty
Building toward a dedicated community should be a priority in any customer retention strategy. Think Coca Cola, Samsung, Tesla, or any other successful brand that has won over a big population segment. Judging from a psychological perspective, customer loyalty can be easily influenced even by the most (apparently) unnoticeable aspects. Here are only 3 of the many business valuables that you can personalize in order to win customer loyalty and long-lasting trust:
A well-thought brand image or campaign can speak a thousand words. Think about the 1984 Macintosh commercial. A common mass need was targeted through visual representation, leading a vast sector of the population to identify as followers of the movement. Making a statement doesn't necessarily have to imply something grand. It is enough to find that one element that unites your audience and introduce it in your visual advertising techniques.
Speaking in your audience's language is a must. To increase the benefits of doing that, make sure to establish yourself as a supporter of their favorite channels and be open to communication. Find where your customers prefer to conduct their daily social media activity and make it easy for them to interact with your business's services on all platforms of interest.
Identify your unique selling points and highlight them throughout your customer retention strategy. You can do so by creating a Unique Selling Proposition (USP):
Pin down the distinctive traits of your business

Define the problems your business solves

Have a clear idea of your target audience

Decide on what you can promise your audience

Combine all the above in no more than two sentences
Here are some memorable examples from notorious brands:
#5 Provide Incentives Before Competitors Do

A customer waiting to be treated to a special offer or discount is a flight risk. Keep your audience dedicated to your brand by surprising with an incentive, rather than succumbing to the pressure of offering one. The possibilities range from discounts all the way to a simple old-fashioned paper mail.
#6 Follow a Customer Retention Funnel
Conducting a long-lasting customer retention strategy can grow into a very complex project. In such instances, a customer retention funnel can help businesses get back on track. You can either design one yourself, or borrow a model that suits your vision. Consider this the "ABC" of your customer retention strategy and segment your efforts into clear, successive steps towards achieving the ultimate goal.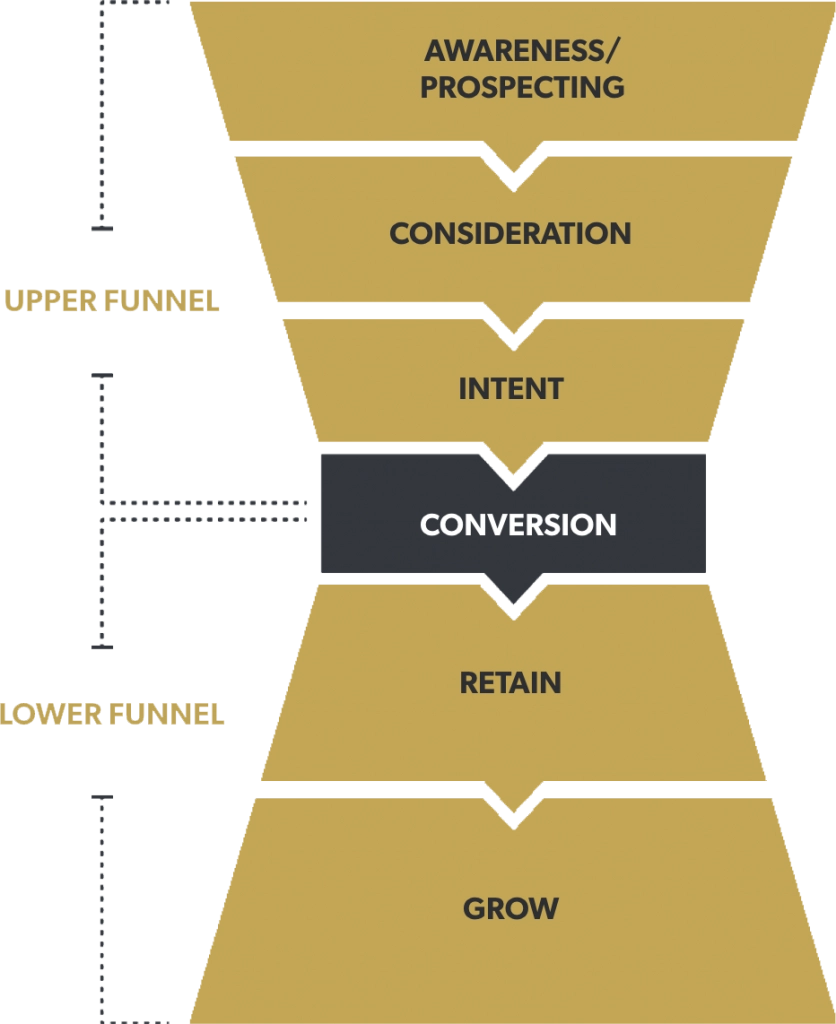 Final Thoughts
Customer retention is a fine art, hence why strategies may unfold differently depending on the industry they target, the particular point in time, or various other business traits. And as consumer behavior is a constantly changing trend, don't get discouraged if your customer retention strategy doesn't generate the results you hoped for in the first run. Make use of the findings to improve your strategy for the following period!