AI assistant

for unmatched customer communication.
Embed Hoory on your website to build automated support and easier user experience management.
Hoory helps you 

 to gather

all the necessary data 

to evaluate

  different aspects of customer experience.
Create your own Workspace by visiting our Wizard. Here you can name your assistant, style the widget, and find a custom snippet to embed Hoory on your website.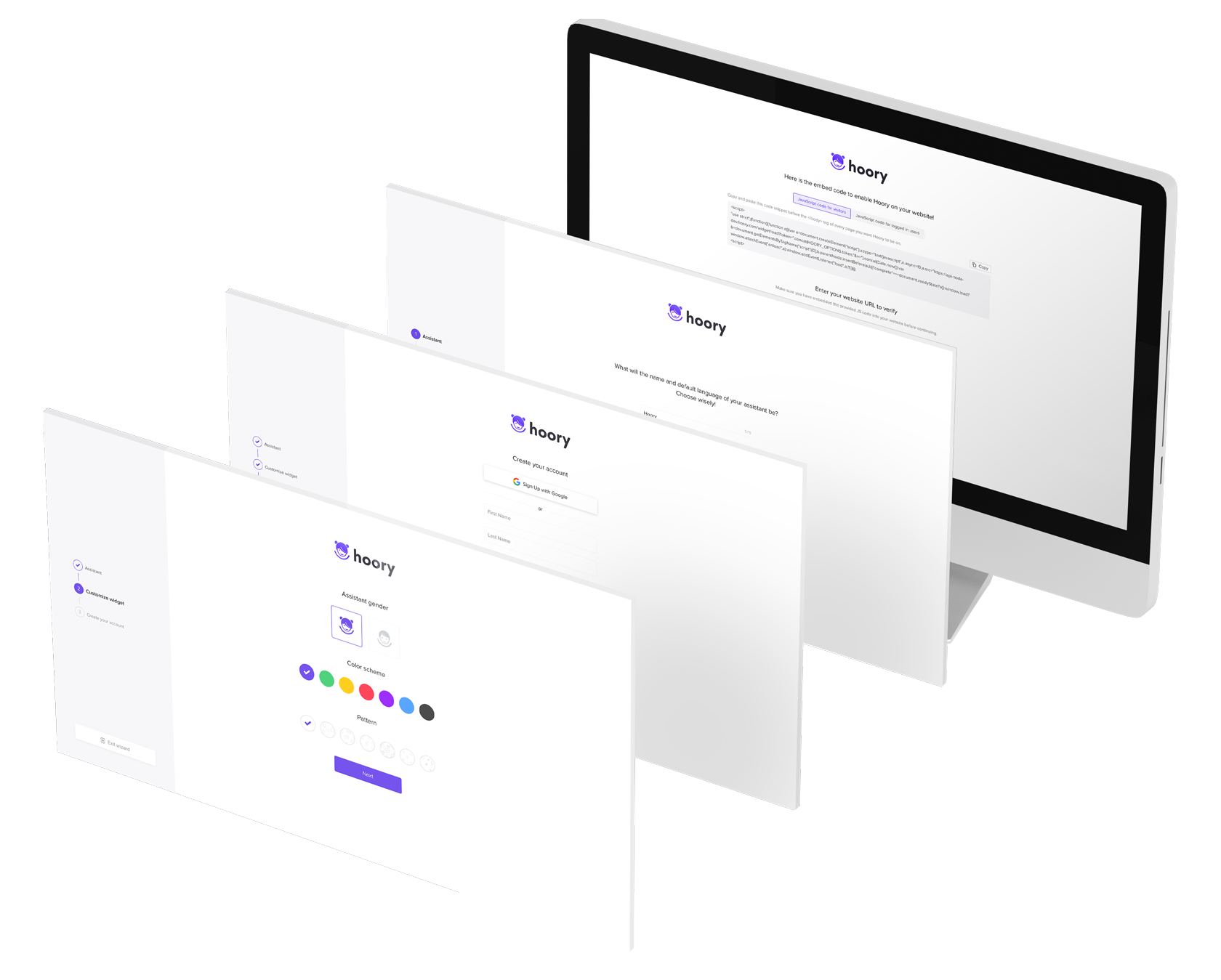 Hoory collects all of the question variations asked by your users, analyzes them, and groups by intent. You can access all the question variations in Hoory's Clustered groups. From here you can start training your assistant on what answers to provide for the clustered questions. You can also manually input question variations and customize your answers using Hoory's editor to add an image, change text color, insert links, emojis, follow-up actions, and more. Let's try together!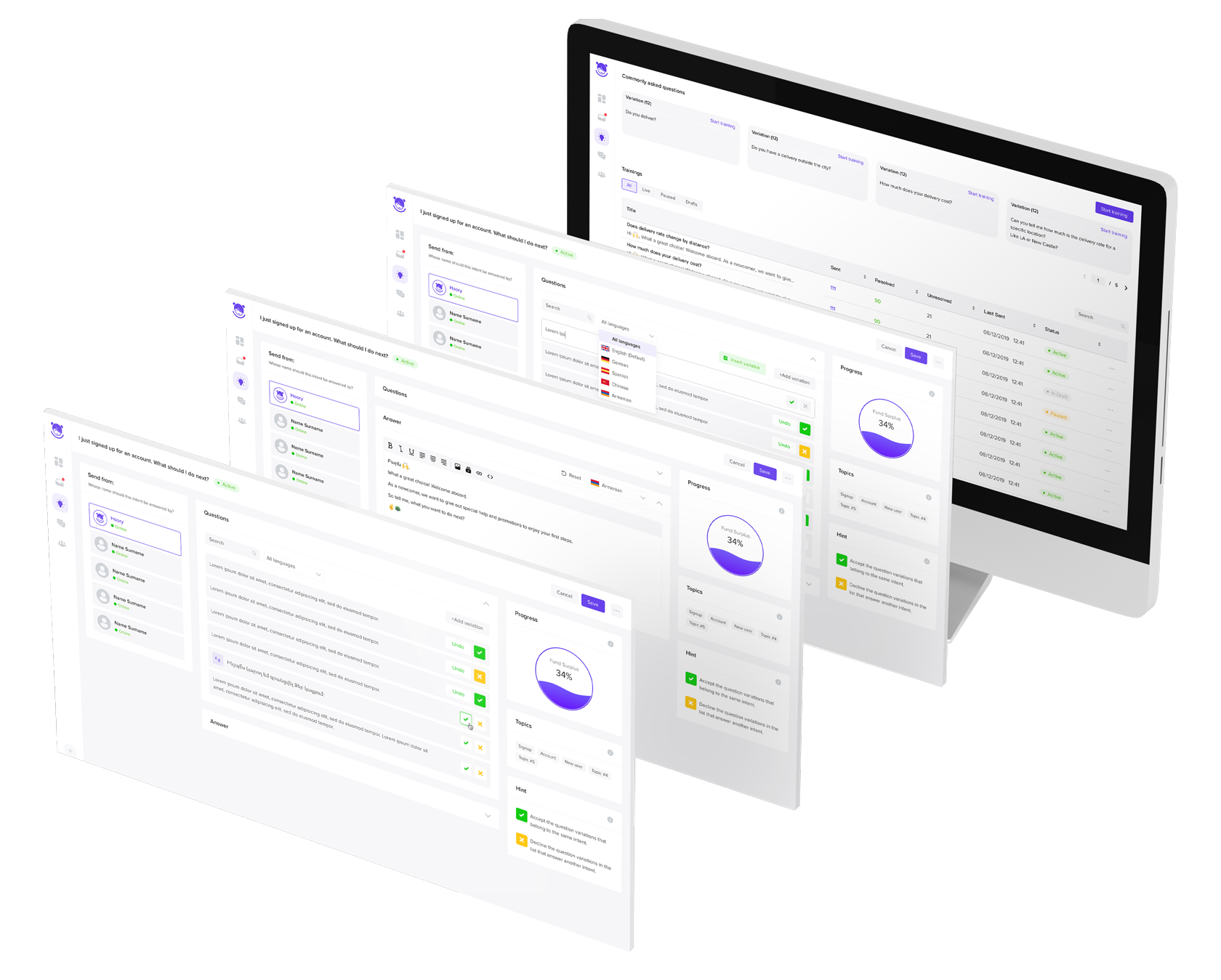 In Hoory's special Inbox you'll be able to access all the communication between the users and the assistant. Here your support agents will be able to chat in real mode with the users and take over the conversation happening on the widget anytime. Conversations will also facilitate sending internal notes to team members.
With Hoory's help, you will be able to send Event-based or Rule-based messages to your users to greet them, provide additional information, or simply make the website navigation more entertaining. Hoory will send in-app messages, push notifications or emails! It will be your call to decide which style to choose for each event.
Hoory's Campaign will be a special feature based on the UX flow of a user that will result in a final goal. It will guide the users with the help of messages, pop-ups, page takeovers, snippets, and top bars so they arrive at the end goal.
You will be able to create any type of a Heatmap to analyze user behavior from Hoory's Workspace Admin. By merging thousands of mouse moves and visualizing analytical data, Hoory will help you better understand the UX flow of your audience and make changes or create goals accordingly.
You don't have to train Hoory alone. You have the opportunity to invite your Team members so they can assist you. Soon you will be able to create Teams with their relevant permissions. You can set up teams based on fields of work, like translators, trainers, content writers, SEO analysts, etc, and invite members to join the fun!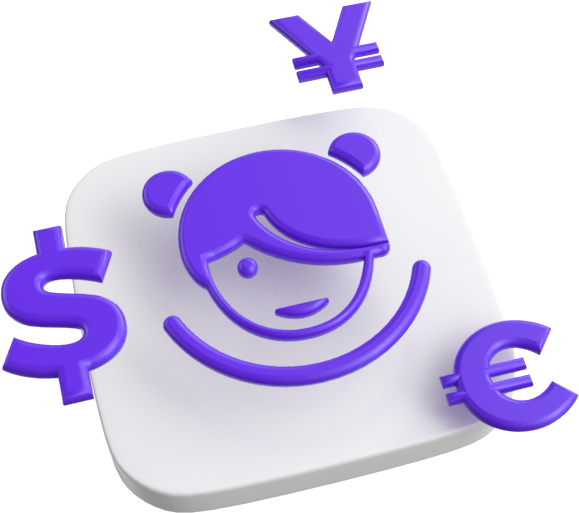 Get your Hoory for just $189/mo.
✔

Customizable widget 
✔

Trainings for automated customer support 
✔

Clustered commonly asked questions
✔

Editable welcome message
✔

Embedding in multiple websites
With all the constant IT growth of the modern world, we found that it is not easy for a website owner to manage multiple important features on different platforms. This is why we thought of creating a single platform where you, as a website owner or manager, will be able to manage your users' interaction on your website and have a pre-trained AI bot to assist them with browsing or conducting multiple actions.