28.06.2022
86% of buyers are willing to pay more for a great customer experience, according to PWC's research. This means that for most consumers, customer experience is more decisive in making a purchase than price and product features.
As customer experience has become a critical selling point, businesses need to know how to best optimize theirs. If you're ready to learn more about customer experience optimization, let's begin!
What Is Customer Experience Optimization?
Customer experience optimization (also called CX optimization) is the process of enhancing your brand's user experience based on customer needs and wants. It reassesses customers' journeys to find ways to increase customer retention and satisfaction.
Customer experience encompasses many aspects of a company's relationship with the client, including the website, social media, product or service, etc. In other words, customer experience is omnichannel, and, therefore, so is its optimization.
With the advancement of artificial intelligence technology, customer experience (CX) shifts faster than ever, introducing new trends such as AI customer experience, augmented reality, voice search, and more.
Why Customer Experience Optimization Matters
Competition between businesses continues to grow stiffer. With so many companies to choose from, customers prioritize their experiences with brands when making purchase decisions. To understand how big of a role experience optimization can play for your brand, let's have a look at statistics:
65% of customers consider a positive experience with a brand to be more influential than great advertising. (

PwC

)

Customer experience drives over 2/3 of customer loyalty, which overtakes brand and price combined. (

Gartner

)

49% of consumers have left a brand as a result of poor customer experience.

(

Emplifi

)
One thing is clear: Customers are quick to abandon a brand following a bad experience. This is not to say you don't have any room for errors, but rather that you should be well aware of them to pivot and adjust your approach when needed.
4 Steps To Optimize Customer Experience
There's no one-size-fits-all when it comes to customer experience optimization, as every company has its unique strengths and challenges. Here's where comes the need to thoroughly analyze your customer journey and identify which aspects require improvement.
Below, you'll find what steps to take to correctly evaluate where your brand stands and how to best approach customer experience optimization.
1. Collect Customer Data
To provide an enhanced customer journey, you need to first analyze the one your brand currently delivers. Here, data is the name of the game — the more relevant information you have about your existing user base, the better. Any interaction a client has with your company is vital, so gather customer conversations, brand mentions on social media, past support tickets, and any other historical data available to you.
Aside from previous interactions, you'll also need insights into the demographic of your client base. From basic information such as age, gender, and location to deeper psychological and behavioral insights, you need to know as much as possible to form a clear picture of your target audience.
Set up specialized tools to help you with data collection if you haven't already. You can employ analytics tools, use heatmaps to see where visitors scroll and click on your website, and embed an AI support assistant to keep track of and analyze every conversation with the user. If you're skilled at programming, you can use Python, R, and SQL for data analysis.
And lastly, don't forget about the most direct way of collecting data — asking customers. Conducting surveys is an excellent way to get customer feedback and learn more about your users.
66% of consumers say they will share personal data about themselves if it improves their customer experience. (Redpoint and Harris)
If you manage to ask the right questions, you'll gain valuable knowledge about what attracted them to your brand, what they wish to change or have more of, etc.
2. Optimize Customer Journey
With the insights uncovered from the previous step, you can go ahead and craft your customer journey map. A potential client goes through specific stages before they make a buying decision. And once they successfully convert into a paying customer, they enter the post-purchase phase of their journey.
Traditionally, there are five key stages in the buyer's journey, as shown below. Each stage builds upon the previous one, so you need to evaluate each phase carefully to identify gaps.

Customer journey mapping is the process of visualizing how a user flows through these stages and where they stagnate or drop off. For instance, if a prospective customer shows interest in your product by contacting customer service but doesn't follow through with a purchase, the issue evidently lies in the transition between the "Consideration" and "Decision" stages.
This signals that it's exactly where you need to optimize the customer experience. You can do so by sending them an informative email, sharing case studies, or offering a free product demo.
3. Run A/B Tests
Look at the gaps you have in your customer's journey and contemplate how to best go about fixing them. Often, the solution won't be as definite and straightforward as you'd expect. Hence why conducting A/B tests is a natural part of the process.
Also known as split testing, A/B testing compares two versions of the same subject to determine which one works better. A great example is comparing two variations of a webpage to pick the one that returns better results.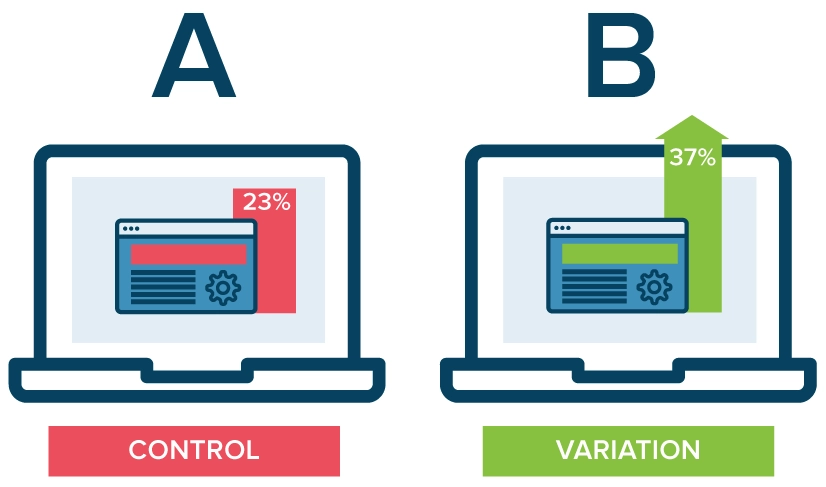 Source: Optimizely
The way A/B testing works is by randomly splitting your audience into groups and delivering each version of the variable to a different group. So half of your customers will see version A, while the other half will see version B of what's being tested. Based on the results shown by analytics tools, the two versions are compared to determine which option is more effective.
You can A/B test almost anything, including email subject lines, app designs, CTA buttons, fonts, colors, sign-up forms, surveys, etc. And when it comes to experience optimization, you will gain immense value from running such tests. After all, CX optimization is all about finding the optimal solution, which is what A/B testing allows you to do.
4. Track Relevant Metrics
Regardless of the project you undertake, your KPIs should be in line with your business goals. It's not uncommon to see companies chasing vanity metrics that look good on paper but don't provide any tangible value. Always specify your goals first, then define the relevant metrics to help you achieve them.
Here are a few KPIs that help to track CX optimization progress:
Conversion rate

Click-through rate (CTR)

Customer satisfaction score (CSAT)

Customer effort score (CES)

Cart abandonment rate

Net promoter score (NPS)

Source: SurveyMonkey
It's Time to Optimize Customer Experience
Consumers value personalized, effortless interactions with brands, prioritizing their experiences in the decision-making process. This urges businesses to adopt a customer-centric approach and make customer experience optimization an integral part of their business strategy.
To optimize your customer experience, you need ample data on your audience, a well-defined journey map, A/B tests, and the right metrics to track your success. The improvements can be as small as a change of a CTA button or as big as launching a new feature. It all depends on your business needs and objectives.