Back in 1959, IBMer Arthur Samuel coined the term machine learning. It is also believed that it was he who provided the first definition of it, although some will surely argue on that. What is certain is that his 1959 paper did hint towards a universal explanation, from which many versions have sprung in time. Here are some of the interpretations:
"the field of study that gives computers the ability to learn without being explicitly programmed." (1)
"Machine learning is a branch of artificial intelligence (AI) and computer science which focuses on the use of data and algorithms to imitate the way that humans learn, gradually improving its accuracy." (2)
"Machine learning is an application of artificial intelligence (AI) that provides systems the ability to automatically learn and improve from experience without being explicitly programmed." (3)
Since then, Machine learning (ML) has become an integral part of artificial intelligence (AI), with outstanding applications in numerous fields and industries.
The Difference Between ML and AI
Although very closely related, Machine learning differs from artificial intelligence. The easy way to get the hang of this is to imagine machine learning as a powering tool for AI. Here is a complete picture: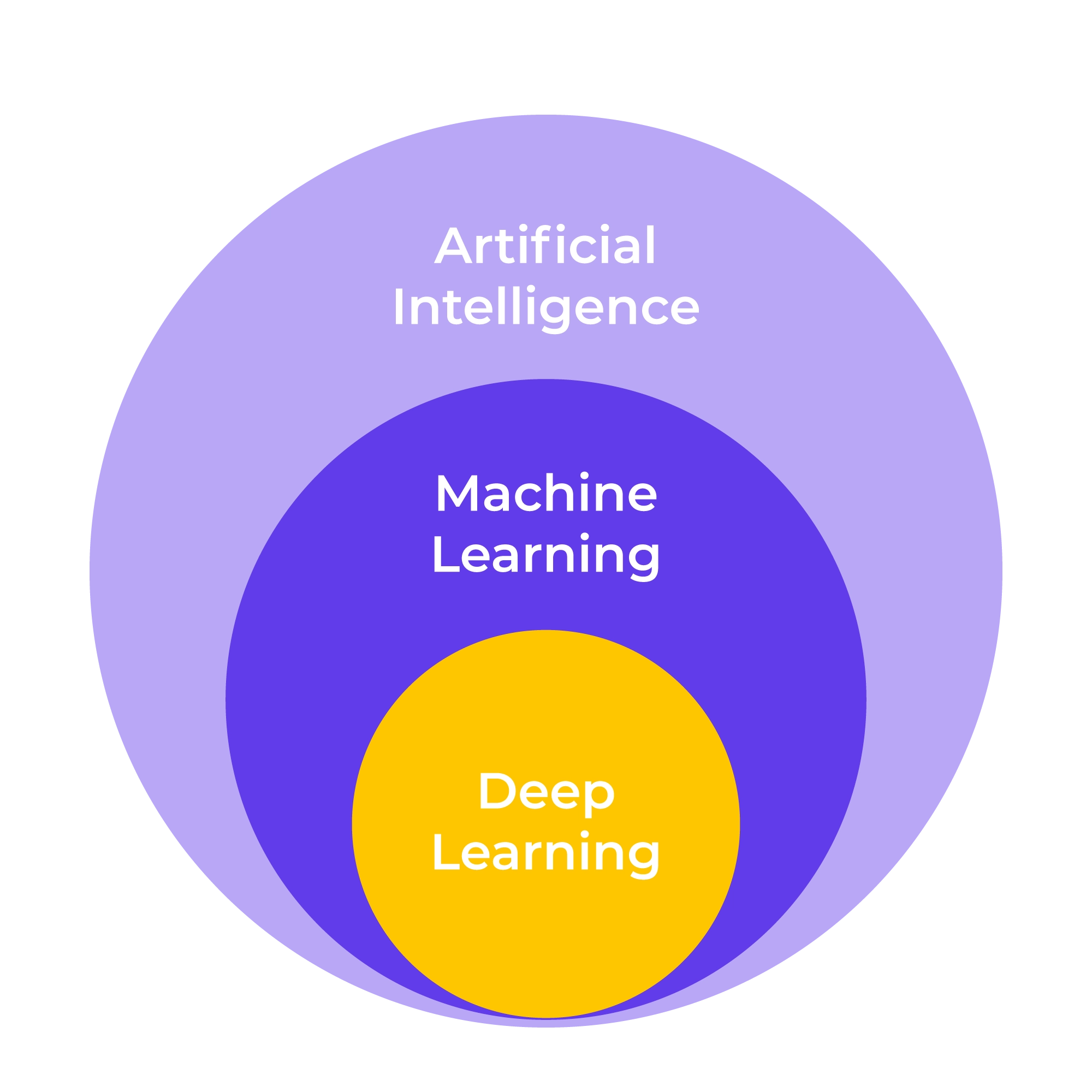 Deep Learning is a subdivision of Machine learning which uses Neural Networks (NN) to solve certain problems. NNs were highly influenced by neuroscience and the functionalities of our brain. Whereas an ML algorithm is something you can actually see written down on paper, AI requires a performer. It is through an assistant, a bot, or any other system powered by AI that we can actually observe and make use of it.

How Machine Learning Works
The study of algorithms that can improve on their own, especially in modern times, focuses on many aspects, amongst which lay the regression and classification of data. In order to achieve this, computer algorithms must go through a learning process that is quite similar to that of a human being.
In his 1997 book entitled Machine Learning, Tom M. Mitchell introduces a technical outline of this learning process:
"A computer program is said to learn from experience E with respect to some class of tasks T and performance measure P if its performance at tasks in T, as measured by P, improves with experience E."
Mitchell's operational definition introduces the idea of performing a task, which is essentially what Machine learning, as well as AI, are aiming for - facilitating our daily lives and improving the rate at which we are developing. In this sense, ML methods strive to require as little human intervention as possible. After an algorithm is designed, the learning process should be carried out by the computer/machine, which can be realized in a number of different ways.
Types of Machine Learning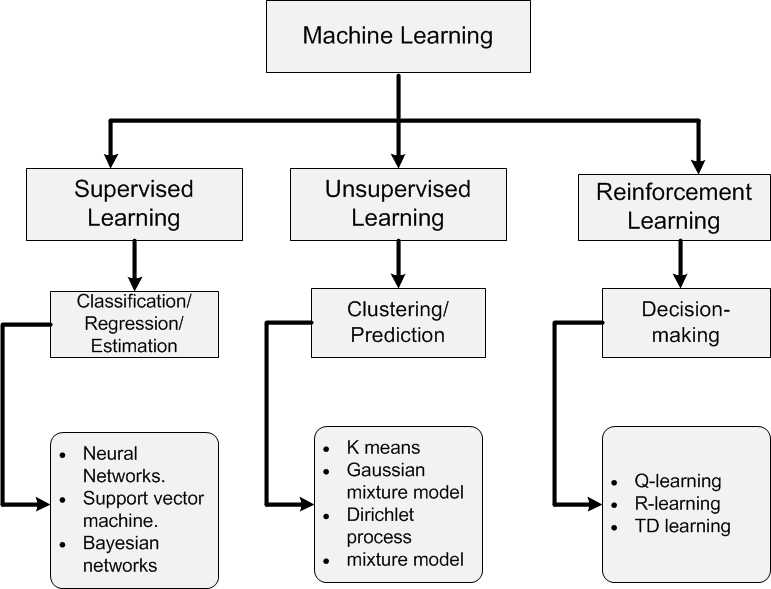 Machine learning types can be classified into 4 main areas:
Supervised learning

Semi-supervised learning

Unsupervised learning

Reinforcement learning


Supervised Learning
With supervised learning, the algorithm is fed a known set of labelled data. The algorithm then has to analyze it and make predictions in order to reach its goal (or, in more technical terms, the output). The operator is aware of both the problem and the solution, actively supervising the performance of the algorithm.


Semi-Supervised
Semi-supervised learning works the same way as supervised learning, but with a little twist. Whereas in the above method an algorithm receives a set of labeled data, the semi-supervised way puts it to the test by introducing unlabeled data also. Thus, the algorithm must find its own way and label the unknown data itself.


Unsupervised learning
Unsupervised learning eliminates labels entirely. This method is used in finding patterns in the data. The self-learning system must analyze the available data and make sense of it through clustering - that is finding similar data points and grouping them accordingly.


Reinforcement learning
Reinforcement learning is all about testing possibilities and defining the optimal. An algorithm must follow a set of rules and investigate each possible alternative. This method is vital, as it is the one to introduce the concept of trial and error.
The Applications of ML
Machine learning applies to a considerable number of industries and areas, most of which are actually playing an active role in our daily lives.
Traffic and transport

Fraud detection

Social media

Medical diagnosis
…and many, many more! Just to give an example of how present Machine learning really is amongst us, think about speech recognition, self-driving cars, and automatic translation. These are tools and features developed through and powered by Machine learning.
ML in Automated Customer Support
Customer satisfaction is a performance indicator that is becoming increasingly monitored. If cared for well enough, it can position your business above the competition and quickly increase your revenue (yeah, for real!). Machine learning plays a vital role in the development of such automation tools, Hoory being an active pawn in this movement.
Thanks to Machine learning, an AI-powered assistant can understand user intent, assist your customers in human-like conversations, as well as generate appropriate suggestions for question variations.

Bottom Line
With a team of Machine learning experts powering up Hoory's functionalities, we are ready to answer any questions you may have. Feel free to drop us a line at [email protected], and we'll gladly assist you!
In other news, grab your last chance to explore Hoory with our 4-month free trial and give AI-powered customer support a go ✊
---
(1) das, c., 2017. What is machine learning and types of machine learning — Part-1. [online] towardsdatascience.com. Available at: <https://towardsdatascience.com/what-is-machine-learning-and-types-of-machine-learning-andrews-machine-learning-part-1-9cd9755bc647> [Accessed 27 January 2022].
(2) IBM Cloud Education, 2020. What is Machine Learning?. [online] Ibm.com. Available at: <https://www.ibm.com/cloud/learn/machine-learning> [Accessed 27 January 2022].
(3) Expert.ai Team. 2020. What is Machine Learning? A Definition.. [online] Available at: <https://www.expert.ai/blog/machine-learning-definition/> [Accessed 27 January 2022].